Common Misconceptions About Florida Car Accident Claims
Feb. 21, 2023
Florida is one of about a dozen states nationwide that rely on a no-fault system for auto insurance. This means that when you're involved in an accident, you must turn to your own insurance company to seek compensation for injuries under the Personal Injury Protection (PIP) portion of your policy. (In an at-fault state, you would have the option of pursuing a claim directly with the at-fault driver's insurance or even filing a lawsuit against the other driver.)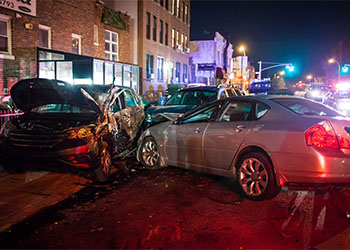 Florida's system can be confusing to many who routinely buy and renew their policy but have never had to file a claim. When they do have to file a claim, they often will be confronted by a series of questions by the company's claims adjusters aimed at keeping the settlement as low as possible.
At Larry K. White, LLC, our legal team has helped countless car accident injury victims in or around Tallahassee, Florida, deal with the claims process and even go beyond seeking further compensation through a personal injury lawsuit. If you or a loved one has been injured in a vehicular accident, it is vital to contact our team. We can handle the claims adjusters and explain your other legal options.
Larry K. White, LLC also proudly serves clients in Gainesville, Jacksonville, and throughout Quincy/Gadsden County and Monticello/Jefferson County, Florida.
Misconceptions about Florida's No-Fault Auto Insurance
Here are some of the more frequently voiced questions about car insurance in Florida, along with their answers:
It's always the at-fault driver's insurance that pays for damages/injuries.
Let's first look at the basic auto policy requirements in Florida. In addition to PIP coverage for injuries you sustain regardless of who is at fault, you must also carry Property Damage Liability (PDL) coverage for damage you cause to other people's property. Both PIP and PDL require a minimum of $10,000 coverage each.
Let's assume you get in an accident, and it's the other driver's fault. You sustain injuries, so you must first turn to your own PIP coverage to get reimbursed for medical expenses and any lost wages. The cap is $10,000, but PIP generally only pays anywhere from 60 to 80 percent of what you claim. There are circumstances when you can sue the at-fault driver for injuries, which we'll cover below.
When it comes to damage to your vehicle, in that case, you would have to get reimbursement from the other driver's PDL coverage unless you purchased collision coverage along with your policy. In that case, your insurance company should cover your repairs and then seek a subrogation claim against the other driver's policy.
Keep in mind, however, that a lot of drivers operate their vehicles without insurance, and if you're struck by an uninsured motorist, you will either have to pay out of pocket or pursue a lawsuit. Therefore, it's better to purchase uninsured/underinsured motorist coverage along with your basic policy.
So, I can't seek compensation from the at-fault driver for my injuries?
If you suffer only minor injuries and don't miss much, if any, time from work, then your PIP coverage might provide compensation to cover your expenses and lost wages, if any. However, as noted, PIP covers only up to 80 percent of your claim. You're liable for the rest. You can always use your own medical coverage for those expenses if they're not fully covered by your auto policy.
Now, there is an option to file a personal injury lawsuit against the at-fault driver, but under Florida law, you can sue the at-fault driver only if you suffer a serious injury, which is described as any of the following:
Significant and permanent loss of an important bodily function

Permanent injury within a reasonable degree of medical probability, other than scarring or disfigurement

Significant and permanent scarring or disfigurement

Death
I was partially at fault, so I can't file a personal injury claim.
Under Florida's no-fault system, even if you're fully at fault for the accident, your insurance will still have to pay for your medical expenses and lost wages up to the limit of your PIP coverage. If you wish to pursue a personal injury lawsuit, however, then the state's standard of "pure comparative negligence" comes into play.
Under comparative negligence, each driver is assigned a percentage of fault. So if you're determined to be 40 percent at fault for the accident that caused you injuries, the other driver would be 60 percent at fault. If your lawsuit calls for $50,000 in compensation, you would be eligible to receive 60 percent of that, or $30,000.
This can get a bit tricky, however, because, in a personal injury lawsuit, you can also seek compensation for non-economic damages such as pain and suffering. Your attorney will help you chart your legal path to recovering the just compensation due to you factoring in both economic and non-economic damages.
I don't need to file an accident report with the police if it's only a minor event.
Florida requires that you report an auto accident whenever there's at least $500 in property damage. You also need to file a report if there are injuries or death resulting, if the accident is caused by an intoxicated driver, or if it is a hit and run.
If a police officer comes to the scene to investigate and files a report, you do not have to file your own report with the DMV. If not, you have ten days to fill out a "Driver Self Report of Traffic Crash" available from the Florida Department of Highway Safety. The form is available online and can be emailed or mailed back when completed.
I don't need to hire an attorney to pursue my personal injury claim.
Remember that insurance companies are for-profit businesses, so it is in their interest to limit any settlement they pay out to a claimant. That's why they use professionally trained claims adjusters to challenge everything you say and every expense you submit. If you deal with a claims adjuster on your own, you'll likely be offered a lowball settlement.
That's why you need to enlist the services of a personal injury attorney to pursue your claim for you. Your attorney is familiar with the tactics employed by claims adjusters and can negotiate for a better settlement. Your attorney can also assess whether further legal action is necessary and then can help you pursue a personal injury lawsuit.
Understanding Your Options
If you're injured in a car accident in or around Tallahassee, Florida, contact us at Larry K. White, LLC, immediately. We will review the circumstances with you and map out your best path to obtaining the just compensation you deserve. We will negotiate with the insurer and, if necessary, take matters to court. While you recover, we will handle your claim for you.