How Social Media Can Affect Your Claim
May 24, 2022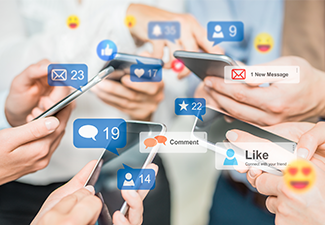 If you file a claim for Social Security Disability Insurance (SSDI), what are the chances Uncle Sam—in the form of the Social Security Administration (SSA)—will spy on you?
The government agency probably won't send people with video cameras out to track you in public. However, they will certainly avail themselves of what information they can find out about you online on social media or other platforms.
A majority of applicants for SSDI are turned down upon initial application, often for not providing sufficient medical justification or for having a mental or physical condition that doesn't meet the SSA's definition of disability or falls outside their list of acceptable conditions. During the process of reviewing your claim, it's not much of a leap to do a quick search for you online and then examine your Twitter, Instagram, Facebook, or LinkedIn posts and pages. If the SSA sees something that looks contradictory to the disability you're claiming, that could be a factor in rejecting your claim.
If you're in the process of filing a disability claim with the SSA, or you've been denied your initial claim in or around Tallahassee, Florida, contact Larry K White, LLC. We can review your claim and help you build a strong case for your initial claim or appeal. We also proudly serve clients in Quincy and the rest of Gadsden County, as well as Gainesville, Jacksonville, Jefferson County, and throughout the state.
Filing an SSDI Claim
The first thing to know about qualifying for disability benefits under the SSA's Social Security Disability Insurance (SSDI) program is the definition of disability upon which they judge your claim, which is "the inability to engage in any substantial gainful activity (SGA) by reason of any medically determinable physical or mental impairment(s) which can be expected to result in death or which has lasted or can be expected to last for a continuous period of not less than 12 months." You also must have paid in the Social Security system through work or self-employment taxes.
Once your application is received and the review process is started, the SSA will see if you have both the work credits (payment history) and sufficient medical evidence to support your claim of disability, which must fall within the definition above. They may also order you to undergo what is called a consultative exam—an evaluation by a third-party medical professional.
How Surveillance Is Used
If you're in any place where there is little or no reasonable expectation of privacy, you can be surveilled by anybody or any entity, public or private. Long-term disability (LTD) insurance companies are famous for sending out surveillance teams and tracking you when you leave your home. They can photograph or video record you in a market, restaurant, on the street, or even in your place of worship.
One thing LTD insurers and the SSA have in common is a savvy understanding of how to track you from their desktops by following you on social media or other public Internet sites. What they're looking for is anything that may contradict your claim for a physical and mental condition that makes it impossible for you to work.
For example, if you attend a friend's birthday party at a restaurant and then post pictures of yourself at the event having a good time, that may contradict your claim that you can't function in a setting with lots of employees. Worse, if you post an image or video of you dancing, that can easily be used to contradict your claim that your back problem prevents you from doing physical activities at work.
Your friends' accounts can also be searched. If your friends comment about how happy and great you look, that could be a red flag as well. Your own comments may also come back to haunt you: "How great it was to see so many of my friends again. We drank and had a good time." A comment like that probably won't go unnoticed.
Even your LinkedIn account can be a source of contradictory evidence. If your account profile lists all your skills and accomplishments just as if you're still working, that is probably because you failed to update it when going out on disability—but it also could be a sign that you're still open to employment opportunities. Be aware of listing your employment status as "Open to New Employment Opportunities."
What to Do to Prevent Online Surveillance
When you go out on disability, you need to review all your social media accounts. Make sure nothing appears after your last day at work that would contradict your claim for disability. As a further step, set everything to "private."
Remember that online surveillance can also be utilized even after your claim has been approved and you're receiving disability benefits. The SSA conducts what are called Continuing Disability Reviews (CDRs) from time to time to verify that a recipient is still disabled. Monitoring could play a part.
How Larry K. White, LLC Can Help
Before you file your claim, contact a Social Security disability attorney immediately at Larry K White, LLC. We can help you assemble a package of evidence that will help your chances of getting your claim approved. We can also advise you of steps to take to protect yourself from online spying. If you've already filed and been rejected, we can help you take the next steps in the appeal process and correct any deficiencies or notations cited in your "Letter of Determination," which is the official letter notifying you of your claim's status.
You don't have to go through this process alone. Our team at Larry K. White, LLC is dedicated to helping individuals in the Tallahassee area and surrounding communities navigate the Social Security Disability Insurance process to obtain the benefits they deserve.