Necessity of Legal Representation for Filing SSDI/SSI Claims
Jan. 21, 2022
The Social Security Administration (SSA) denies about two-thirds of every claim made for benefits under its Social Security Disability Insurance (SSDI) program. After receiving a notice of denial, if you ask for a reconsideration, the rejection rate stands even higher at 87 percent.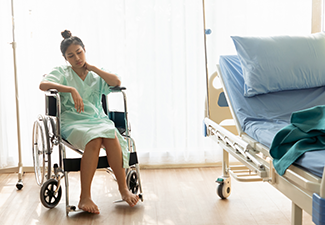 The odds of success seem long, but a lot of these denials stem from applications that are incomplete or lacking in enough medical evidence for the SSA to approve your claim.
For those reasons and many others, it's crucial to rely on the knowledge, experience, and resources of Social Security disability attorneys when you file your claim or when dealing with the SSA in any step involved in the process, including requests for reconsideration and subsequent appeals.
The same applies if you're applying for benefits under Supplemental Security Income (SSI), a program for those aged 65 and above, blind or disabled, who have limited income and resources. Your odds of being approved rise if you follow the guidance and use the assistance of experienced Social Security disability attorneys.
If you're applying for either program, seeking a reconsideration, or an appeal of a denial, and you're in Tallahassee, Florida, contact the office of Larry K. White LLC. Our team serves clients also in Quincy, Gadsden County, Gainesville, Jacksonville, Monticello, and Jefferson County, Florida. Our attorneys are experienced in filing and appealing SSDI and SSI claims and can assist you in dealing with the SSA and providing ample justification for your claim.
Requirements of the Two Programs
First off, to receive benefits under either program, SSDI or SSI, you must meet the qualifications set forth by the Social Security Act. The SSA uses the same definition of disability for qualifying under either program, to wit:
"The law defines disability as the inability to engage in any substantial gainful activity (SGA) by reason of any medically determinable physical or mental impairment(s) which can be expected to result in death or which has lasted or can be expected to last for a continuous period of not less than 12 months."
For SSDI, you must have paid into the Social Security system through payroll taxes or self-employment taxes and earned enough work credits to qualify. The number of work credits depends on your age, though you must have earned 40 work credits, with 20 earned in the prior ten years.
Qualifying for SSI is based on income and resources. Your resources, minus exemptions for home, car, and other essentials, must not total more than $2,000 if you're single and $3,000 for a married couple living together.
Reasons for Denial
If you apply and are not approved, you are mailed a notice of denial – which the SSA calls initial determination – spelling out the reasons for the SSA's decision. Often, the explanation will focus on an insufficient lack of medical evidence, but other reasons include:
Your condition didn't qualify as a disability (the SSA has a list of "approved" disabilities)

You didn't have the required work credits, or your income and assets were over the limit

You are currently working and over the substantial gainful activity (SGA) limit

You didn't submit all the required forms or failed to fully complete

You didn't submit a questionnaire sent to you, or you failed to respond to SSA phone calls or other requests

You failed to attend a Consultative Exam (CE) ordered by the SSA

You missed a deadline given you by the SSA
How Experienced Attorneys Can Help
There are many ways our attorneys can help you in your claim -- from making sure you have the required medical documentation to helping you jump over all the administrative and legal hurdles the process throws your way.
At Larry K. White, LLC, our attorneys can help you fill out the claims forms and seek to assemble all the supporting documentation to obtain approval. We can help you get the medical evaluations to support your claim, and cast the case in the best possible light for approval.
If the SSA and its agents subsequently request further information or documentation, we will handle that for you, and we will keep you informed about how the process is going every step of the way. You won't miss a deadline or fail to return a request or a call if you involve us from the beginning. The SSA will have no reason to close your claim or deny it for lack of cooperation.
In addition, we can formulate and ask for a reconsideration if your initial claim is denied. We can also help you in the appeals process if your reconsideration still comes back as a denial. Sometimes, taking your case before an administrative law judge (ALJ) hearing is the key to getting a favorable result.
Social Security Disability
Attorneys in Tallahassee, Florida
If you're disabled and seeking benefits from the Social Security Administration, the task before you can often be daunting. The SSA has numerous reasons to reject your claim. Do not fail to provide the documentation and rationale for your claim when you first apply.
For those in Tallahassee, you can rely on the experience and proven results of the disability attorneys at Larry K. White, LLC. Contact us immediately if you need to file for either SSDI or SSI or if you have been denied. We proudly serve clients also in Quincy, Gadsden County, Gainesville, Jacksonville, Monticello, and Jefferson County, Florida.