Pre-Existing Conditions & Your Disability Claim
Sept. 30, 2022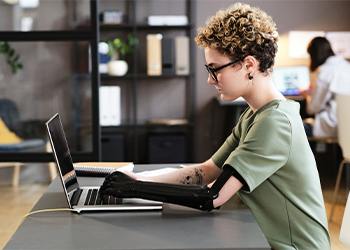 People who are unable to work but are not yet at retirement age often wonder if a pre-existing condition will disqualify them from receiving disability benefits from the Social Security Administration (SSA). The SSA runs two disability programs. One is called Social Security Disability Insurance (SSDI), and the other Supplemental Security Income (SSI).
For SSDI, the qualifications are that you are younger than 65 and have a disabling condition that will keep you from pursuing "substantial gainful activity" for 12 or more months, and also that you have earned this "insurance" by paying sufficiently into the Social Security system through payroll or self-employment taxes, a process called accumulating "work credits."
SSI is different. Though it, too, can be used to help pay for disability benefits, it also exists for anyone over the age of 65, anyone of any age who is blind, and for those with disabilities. However, to qualify, the applicant must have few resources and little or no income. Resources are usually defined as no more than $2,000 in assets for an individual and $3,000 for a couple, though some assets are exempt such as a primary home and one vehicle.
Consider this scenario: you've been working full-time with a pre-existing condition, but that condition suddenly worsens and prevents you from continuing your duties. Will that disqualify you from SSDI? The answer is generally no, though it may present you with more challenges in providing evidence and documentation that your worsened condition qualifies.
If you need to apply for SSDI and you're worried about a pre-existing condition disqualifying you, or you've already applied and received an initial negative determination, contact Larry K. White, LLC if you're in or around the Tallahassee, Florida area. Attorney White is a former Social Security disability judge who understands the qualifications for SSDI and what type of substantiating evidence the SSA is seeking.
Our team at Larry K. White, LLC proudly serves clients in or around the counties of Quincy/Gadsden, Gainesville, Jacksonville, Monticello/Jefferson, and the rest of the state.
What Is a Pre-Existing Condition?
Pre-existing conditions can lead to serious long-term health challenges. High blood pressure is known as the silent killer because it exhibits no symptoms, but unless treated, it can lead to a heart attack or stroke. Diabetes, on the other hand, does generally have symptoms, and if untreated can lead to serious consequences. Cancer is another pre-existing condition. While one's cancer is under control, full-time work may be possible—but if it progresses, your work may be jeopardized.
The point with all these pre-existing conditions (and others, including back, spinal, mental, or other conditions that limit certain work activities) is that they can lead to more critical health challenges, including disability. The burden of proof will be on you when you apply for SSDI to meet the definition of disability, whether or not it derives from a pre-existing condition.
How a Pre-Existing Condition May Affect Your Claim
On its web-based explanation of which physical or mental impairments are considered qualifying for SSDI, the SSA notes: "Medical evidence is the cornerstone of the disability determination…."
Therefore, if before your pre-existing condition worsened into a disabling condition, you had been seeing a doctor regularly and undergoing evaluation and treatment, the resulting medical records will be a plus in your application for SSDI (or SSI if for a disability).
On the other hand, had you left your pre-existing condition untreated, or ignored it altogether, you're going to need to start the medical evaluation process virtually from scratch. With no medical history of your condition, it is going to prove challenging to win a disability claim from the SSA until you have created a trail of medical evaluation and treatment.
Medical evidence, moreover, goes beyond just a statement from your physical. It should include the results of any X-Rays, MRIs, tests, or other exams. In addition to medical verification, the SSA also expects you to submit testimony and evidence from "nonmedical sources," such as vocational and educational counselors, public and private social welfare agency personnel, even caregivers, friends, family members, coworkers and the employer themselves, if possible.
Chances of Approval
The majority of first-time SSDI claims are denied, usually because they fail to provide sufficient medical and nonmedical evidence to substantiate the claim of disability. The SSA never uses the term "denial," but sends you a "letter of determination" listing the reasons for its decision. You can then request a reconsideration by another disability examiner unfamiliar with your case using the evidence you've already submitted.
After that, with the help of an experienced attorney, you can request a hearing before an administrative law judge (ALJ) to review your previous denials and provide further evidence and justification. The decision by the ALJ, if not in your favor, can then be directed to the Appeals Council, which can approve, overturn, or return your appeal to the ALJ for further review. After that, your only recourse may be through the Federal Court system.
The Importance of Skilled Legal Council
With more than half of all first-time SSDI claims being rejected, it's vital to reach out to experienced legal advice and guidance before submitting your application for benefits. The SSA expects more than a mere claims form and a doctor's statement to be submitted. Especially when it comes to disabilities arising from pre-existing conditions, you will need to document the progression of your disability and provide powerful evidence and testimony.
If you're applying for SSDI in or around Tallahassee, Florida, and you're worried about the effects of a pre-existing condition on your claim's chances—or worse, you've received an initial negative determination on your claim—contact our office at Larry K. White, LLC immediately. As a former Social Security disability judge with more than four decades' experience in the field, Attorney White and the rest of our team can help you prepare a package of medical and nonmedical evidence that will go a long way toward convincing the SSA of your need for benefits.