Reasons Claims are Denied
March 2, 2022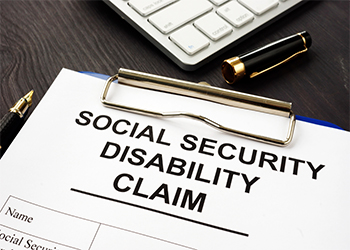 You've developed a physical or mental condition that is keeping you from working, and you want to exercise your rights under the Social Security Disability Insurance (SSDI) program of the Social Security Administration (SSA). You apply, but your claim is rejected — as it is in half or more of all new cases.
There are avenues for appeal available, but as your bills pile up and your condition fails to improve, you wonder to yourself how the SSA could deny you.
The SSA has a list of reasons, but they can often be boiled down to these three:
Do you qualify under the SSA's prior work requirements?

Does your disability meet the strict requirements of the Social Security Act?

Do you have other income that you can rely on?
Other factors can play into an adverse decision as well, but those three top the list.
If you are facing disability and unable to work and want to qualify for SSDI in or around Tallahassee, Florida, contact our team at Larry K White, LLC. We can assist you in preparing a claims package that will help you meet the challenges of the SSA qualification process. Likewise, if you've been denied in your initial claim, we can help you navigate the appeals process.
At Larry K White, LLC, we also proudly serve clients in Gainesville, Jacksonville, Quincy County, Gadsden County, Monticello County, and Jefferson County.
Social Security Disability in Florida
SSDI is a national program that provides funds to help people with living expenses when they are disabled.
As mentioned above, there are stringent requirements to qualify. First, you must have paid into the Social Security system through payroll or self-employment taxes. Depending on your age, the SSA will consider how many "work credits'' you have earned. A work credit equals earnings of $1,510. You can earn four of these credits in a year.
Generally, until you reach the age of 31, you must have earned credits for working half the time between the age of 21 and the onset of your disability. After 31, you must have earned 20 credits in the 10 years preceding your disability.
You must also qualify under the SSA's definition of disability, which means that the disability must be expected to last at least 12 months or until death. Finally, you cannot have income from any substantial gainful activity totaling more than $1,350 a month, or $2,260 if you are blind.
Reasons Your Claim Is Not Approved
The SSA will send you a letter of determination when it has finished reviewing your claim. The letter never uses the words "rejected" or "denied," but will list the reason(s) that you claim was not approved. Some of the reasons commonly listed include:
Your disability is not listed as a qualifying disability: The SSA maintains a list of what it calls "qualifying disabilities," which comprises 14 categories ranging from musculoskeletal disorders to immune system disorders. If the condition you claim as your disability is not listed, the SSA will likely not approve your claim. You will need to provide sufficient medical evidence to prove that your condition is disabling.

You failed to prove you were disabled according to the legal definition: The SSA legal definition of a disability is "the inability to engage in any substantial gainful activity (SGA) by reason of any medically determinable physical or mental impairment(s) which can be expected to result in death or which has lasted or can be expected to last for a continuous period of not less than 12 months." Broken arms or legs or conditions that will heal or recede in less than 12 months don't qualify.

You failed to provide sufficient medical evidence: This is a frequently cited reason given in letters of determination, which ties in with the above two reasons. Your claims package did not include enough medical evidence for the SSA to evaluate your disability. You will need to present detailed descriptions of your conditions provided by your medical team, as well as X-Rays, MRIs, and other test results.

You failed to cooperate with SSA requests: While considering your claim, the SSA may contact you for further details or evidence, or even to ask you to undergo what is called a consultative exam by an independent medical professional. If you don't respond, they will likely close out your file.

You earn too much to qualify for SSDI: The SSA has income requirements to qualify for SSDI. If you are engaged in any substantial gainful activity (SGA) earning you more than $1,350 a month — or $2,660 if you're blind — you won't qualify for SSDI.

You are able to adjust to other types of work even if you can no longer perform your current type of work: For instance, a back condition renders it impossible for you to continue working in a warehouse, but you have prior phone sales or other less physically demanding job experience. In this case, the SSA may encourage you to pursue other avenues of work. The SSA even has provisions that allow you to pursue other lines of work while receiving SSDI under its Trial Work Period (TWP) program.
How Legal Counsel Can Help
Most difficulties with qualifying for SSDI stem from either not fully understanding the requirements of the program or from not presenting enough evidence — both financial and medical — to press your case forward. An experienced and knowledgeable disability attorney can help you on both of these fronts.
If you're in the Tallahassee, Florida region, or in the nearby areas of Gainesville, Jacksonville, Quincy County, Gadsden County, Monticello County, or Jefferson County, contact us at Larry K White, LLC for assistance in applying for SSDI or in appealing an adverse decision. We are ready to help you assemble the necessary documents and proof of disability to help you meet all the requirements.