What to Expect When Seeing the Social Security Doctor
July 27, 2022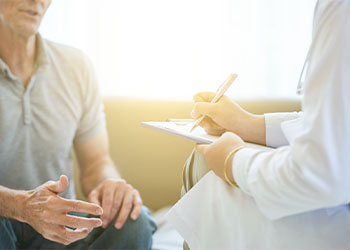 You've applied for benefits under Social Security Disability Insurance (SSDI) or under Supplemental Security Income (SSI). You've submitted the medical evidence you have. You believe it is more than enough to meet the Social Security Administration's (SSA) definition of disability, meaning that you have a physical or mental condition that will prevent you from performing any "substantial gainful activity" for at least 12 months or more.
While you're waiting for what you hope to be approval, you get a notice from the SSA disability examiner handling your claim that you need to undergo what the agency calls a "consultative examination" (CE). This means a physician not directly working for the SSA will be assigned to meet with you and assess whether your disability truly qualifies.
In some cases, a consultative exam may be ordered to ensure that you truly qualify. Perhaps they just need one more x-ray or the confirmation of an independent doctor that you truly do suffer from the disability you claim. But in the majority of cases, the CE is being ordered as the final step in denying your claim.
If you do undergo an independent SSA-mandated exam and the result is a denial of your claim, all is not lost. You can still file an appeal and present enough countervailing medical evidence to turn the decision in your favor, but it's not going to be a slam dunk. You're going to need the advice, guidance, and representation of an experienced Social Security disability attorney.
If you or a loved one is facing a consultative exam, or as a result of one, you have been denied the disability benefits you feel you deserve, and you're in the Tallahassee, Florida area, contact the attorneys at Larry K White, LLC.
We will review your claim and the evidence you provided and seek to augment everything to help you proceed. We will also instruct you on how to deal with a consultative exam, or if your claim is denied because of a CE, we will help you mount a powerful appeal. Larry K White, LLC also proudly serves clients in Quincy, Gadsden County, Gainesville, Jacksonville, Monticello, and Jefferson County, Florida.
What Is a Consultative Exam?
One way of looking at a consultative exam is that it's whatever the SSA disability examiner decides it will be. CEs are often ordered when the examiner determines the evidence submitted is "thin" and more verification is needed.
You may be ordered to see an SSA-affiliated physician for an x-ray, blood test, or even just a simple visit to a physician who will do the basics of listening to your heart, taking your blood pressure, and asking you questions about your claimed disability. A consultative exam is not always just physical in nature. CEs can be ordered for psychological or psychiatric reasons as well.
People who have undergone CEs often report that they are brief and that sometimes the attending physician can even be rude and act hurriedly. Remember, if you are ordered to a CE, the physician may not work for the SSA directly, but they receive lucrative remuneration, so it is in their best interest, so to speak, to make the parent agency happy, which can mean filing a report that diminishes the extent of your physical or mental impairment. The SSA can then deny your claim.
A pamphlet prepared on the subject by the SSA puts it this way to try to put you at ease: "The doctor (or other medical person) who sees you will only conduct the exam or test and get specific information requested by the state agency. The doctor will not take part in deciding whether you're disabled and he or she will not prescribe treatment or medication for you. The doctor will send a report of the exam or test to the state agency."
What Should I Say to the Doctor?
While you don't want to exaggerate or outright lie to the CE physician, you also don't want to downplay your disability condition. Unfortunately, many people tend to minimize their condition because they don't want to come across as a complainer, but you have to be honest and explain your symptoms in real terms.
CE physicians have also been known to not report your symptoms completely or even accurately. One example is a claimant who mentioned that fatigue resulted from the medication that was prescribed. The doctor, in this case, noted: "Patient seemed bright and alert, with no apparent fatigue."
If you do mention symptoms, make sure you provide plenty of examples, so the physician's response doesn't turn on a single incident.
What If I Disagree With the Doctor?
Unfortunately, you may not know what the physician is going to report to the SSA until you receive a letter after the CE affirming or denying your claim. At that point, your only option is to follow the SSA reconsideration and appeals process if you've been denied.
Once you receive the denial, you can ask for a reconsideration by another examiner who has no knowledge of your claim. If your claim is still denied, you can request a hearing with an administrative law judge (ALJ). After that, you must take the issue to the SSA Appeals Council.
During each step of the process, you will need the help of an experienced Social Security disability attorney to make sure you present only the most cogent and convincing medical evidence and statements by doctors and others involved in your evaluation or rehabilitation.
Turn to Knowledgeable Legal Counsel
If you're applying for disability benefits under either SSDI or SSI, it's best if you involve an experienced attorney from the beginning to help you navigate the system. It's not uncommon for 50 percent or more of all first claims to be denied, but you can increase the odds of approval if you consult with legal counsel and develop a comprehensive package of medical evidence and testimony by others describing your condition.
If you're in or around Tallahassee, Florida, and need help obtaining Social Security disability benefits, contact the attorneys at Larry K White, LLC immediately. If you've already applied and are running into hurdles, don't hesitate to reach out. We can help you move your claim forward.